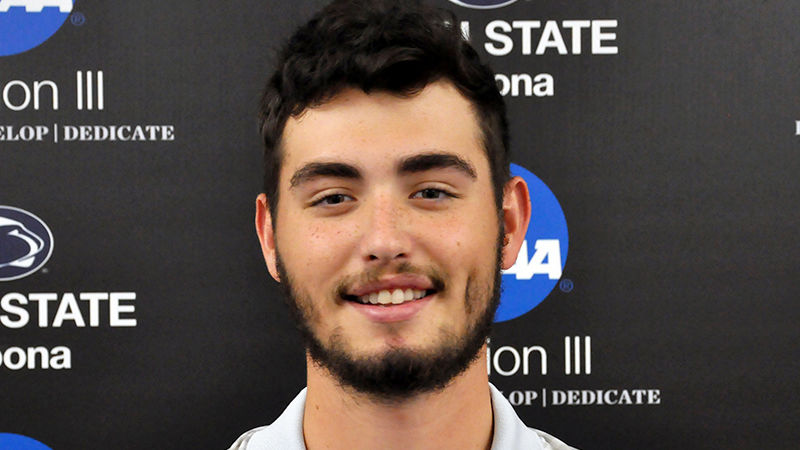 NORTH BOSTON, N.Y. — For the second time this season, Penn State Altoona student-athlete Trey Heffelfinger (Mount Union, Pennsylvania/Mount Union) was named the Allegheny Mountain Collegiate Conference's Golfer of the Week.
Heffelfinger had an exceptional week for the Lions, averaging a score of 70.67 in three rounds. He posted a record-setting performance for Penn State Altoona on Friday, during the Lions' dual match win over non-conference opponent Juniata College at Sinking Valley Country Club. Heffelfinger shot 67, a 5-under par score on the course, to set a new Lions golf record for the lowest score in a round by an individual. He finished the match ranked first out of 16 golfers who competed.
On Sunday, during day one of Allegheny College's Guy and Jeanne Kuhn Memorial Invitational at the Country Club of Meadville, Heffelfinger shot a team-best 75 on the par 72 course to finish the round in a tie for eighth place out of 68 individuals.
Heffelfinger finished strong in the second and final round of the Allegheny Invitational on Monday, firing a 2-under par 70 to tie for the third-lowest score in a round in Penn State Altoona golf history. He finished the Allegheny Invitational with a two-day score of 145 that placed him in a tie for fourth place on the player leaderboard.
This is Heffelfinger's second AMCC weekly award this season, and it is the second of his collegiate career. The sophomore currently holds a team-best 72.71 scoring average through seven rounds to date this season.
Penn State Altoona men's golf returns to action this Sunday, October 3 and Monday, October 4, competing in Gettysburg College's Battle at the Burg at Hanover Country Club in Abbottstown.