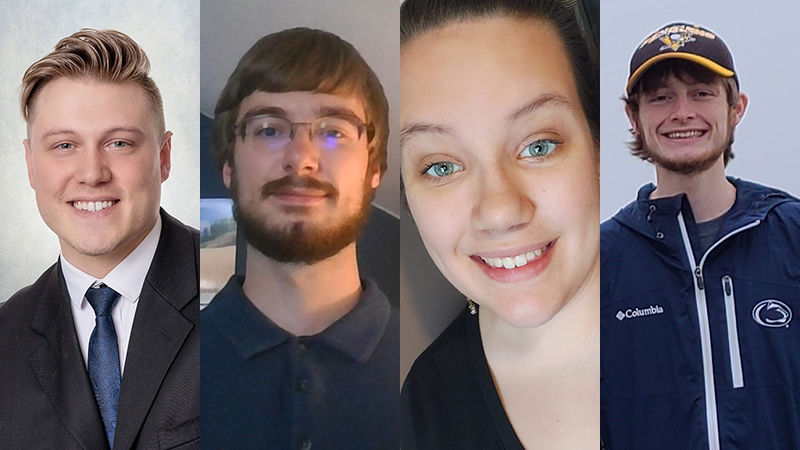 ALTOONA, Pa. — Penn State Altoona has announced the spring 2021 commencement student marshals. Student marshals are chosen to represent their academic division based on outstanding academic achievement.
At Penn State Altoona, student marshals carry their academic division's banner during the commencement procession. Penn State Altoona will hold two spring 2021 commencement ceremonies on Saturday, May 8.
Three of Penn State Altoona's marshals have provided video messages to their families, faculty and fellow graduates.
Spring 2021 Student Marshals
Sawyer Kline
History major
Student Marshal for the Division of Arts and Humanities
"I grew up in a town roughly 20 minutes away from the Penn State Altoona campus. My childhood and adolescent experiences were shaped by a uniform community, with roughly 99% of its population looking just like me. Ideological or social diversity was not characteristic of this environment. However, during my four years of college study, I encountered unique individuals with their own backgrounds and worldviews. Receiving an education in the humanities has afforded me the ability to consider issues through different people's eyes with their own problems. I was introduced to the cultures, traditions and struggles of distant peoples, discovering the importance of open-minded and free thought. I would like to sincerely thank the faculty at Altoona, the amazing history department, my peers and the mosaic of friends I have made for helping shape this perspective. I would especially like to thank my parents and family for the generous support, love and encouragement necessary to aspire for greater goals.
"Although we graduate today, we do not relinquish our responsibility to continue learning. Among the duties of adulthood, knowledge is our greatest power as we become tomorrow's leaders. It is immensely important that we adopt a compassionate, unprejudiced mindset that will promote a better, more inclusive tomorrow."
Christian Wilkins
Electro-Mechanical Engineering Technology major
Student Marshal for the Division of Business, Engineering, and Information Sciences and Technology
"My first year of college was at a university very far from home. The finances associated with that selection and distance proved unsustainable amongst other factors, so I decided to transfer to the EMET program at Penn State Altoona, a much shorter 10-minute drive to campus. This was one of the best decisions I have ever made.
"These past few years have certainly been a challenge academically and otherwise, but a worthwhile one full of opportunities. I have gained a new set of knowledge and skills to bring to the table that I would not have gotten otherwise. The journey has also been tremendously fun. The smaller community on the Altoona campus creates a very unique and welcoming atmosphere. My professors have always been very approachable and willing to lend a hand to any student who comes to them, often going beyond expectations. The teamwork, support and banter with my fellow EMETs have been invaluable as well. This experience is one in which we have all learned and benefited. I will truly miss it. Even through the pandemic, we stayed in touch and got study groups together, keeping each other motivated and on track to succeed.
"I have many people to thank for their support on this journey, including my family, friends, professors, scholarship donors, advisers, bosses, supervisors, coworkers … the list is virtually endless, but I am truly grateful. I look forward to the next chapter and to applying everything I have learned to my future endeavors."
Israel Tucker
Elementary and Early Childhood Education major
Student Marshal for the Division of Education, Human Development and Social Sciences
"I am honored to be named Student Marshal for the Division of Education, Human Development, and Social Sciences for the graduating class of spring 2021. Four years ago, having been accepted into the pre-engineering major at Penn State Dubois, I never would have thought I would be where I am today. Thanks to the guidance and support of the Penn State Altoona faculty, I have found my true path. Graduating with a bachelor's in Elementary and Early Childhood Education with minors in Special Education, Deafness and Hearing Studies, and English will allow me to pursue my niche in graduate school and my future career. Without the amazing faculty members that have helped me through my college years, I never would have found myself here today. Thank you to all the faculty for your hard work and dedication!
"Beyond academics, I want to thank all the individuals that help make Penn State Altoona a true community. Attending college is about more than just academics, and this campus lives that truth. From weekend activities in Slep to inclusion awareness to unique club opportunities, everyone can find their home at Penn State Altoona. 
"Always and forever, We Are Penn State!"
Joseph Roesch
Biology major
Student Marshal for the Division of Mathematics and Natural Sciences
"Without the help of the incredible faculty and staff here at Penn State Altoona, I would not be where I am today, so thank you. I have never seen a group of individuals so prepared and willing to help out their students, even throughout a global pandemic. Not only have I had incredible professors, but I have also made many new friends that mean the world to me. In my time here, I have been privileged to be involved in research with Dr. Xu. I want to thank him for everything that he has taught me and for putting up with me during summer research. One of the people who mean the most to me on this campus is Dr. Palmer. She has been my rock for the last few years, and I want to thank her for being there for me when it seemed like my world was falling apart. I want to thank the Chemistry and Biology Department professors for teaching me valuable lessons in life and supporting my dreams. More than anything, I would like to thank my family, especially my parents. Mom and Dad, thank you for everything because, without you, I would have never become the man I am today. I am honored to be named the 2021 Student Marshall for the Division of Mathematics and Natural Sciences. WE ARE …"