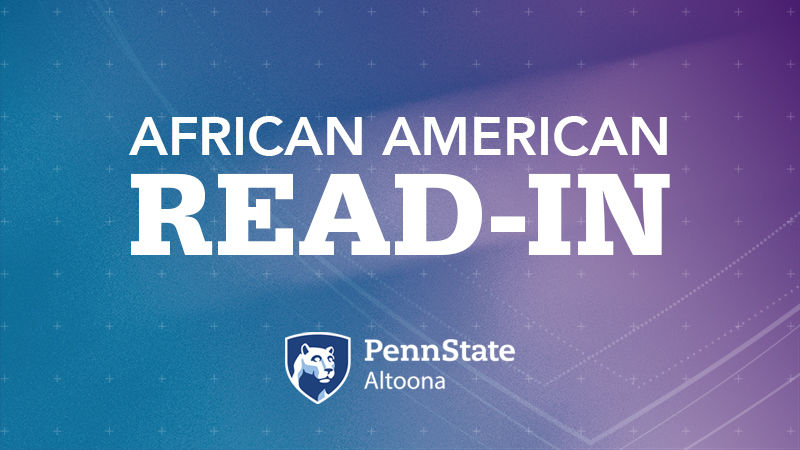 ALTOONA, Pa. — The annual African American Read-in at Penn State Altoona will take place virtually Feb. 21-22. This year's theme is "Black Literature Matters," with a special focus on poetry.
Events begin at 2:30 p.m. Sunday, Feb. 21 with an online community gathering featuring readings by Blair County residents and groups. Students, community members, groups, organizations, and families are invited to attend.
The Read-In continues from 4 to 7 p.m. Monday, Feb. 22 with the "Monday Marathon," an interactive open mic event with special features, games, and a Penn State Altoona student showcase. Penn State students, faculty and staff will offer readings and presentations. Anyone is welcome to attend all or parts of the event.
If you'd like to share a reading during Sunday's event, the Monday Marathon, or both, you can sign up for a live spot or submit a video. Visit the African American Read-In site for more information.
At 7 p.m. Monday, Feb. 22, the featured author of the 2021 African American Read-In at Penn State Altoona, Cortney Lamar Charleston, will give a reading from his works of poetry and offer a question-and-answer session.
Charleston is the author of "Telepathologies" and "Doppelgangbanger." He was awarded a 2017 Ruth Lilly and Dorothy Sargent Rosenberg Fellowship from the Poetry Foundation and has received fellowships from Cave Canem and the New Jersey State Council on the Arts. Winner of a Pushcart Prize, his poems have appeared in "POETRY," "The American Poetry Review," "The Kenyon Review," "Granta," and "The Nation." Charleston serves as a poetry editor at "The Rumpus" and sits on the editorial board at Alice James Books.
All events are free and open to the public and sponsored by the African American Read-In at Penn State Altoona with additional support from the Blair County NAACP.
Visit the African American Read-In site to find out more and sign up to receive Zoom information for the Read-in events.