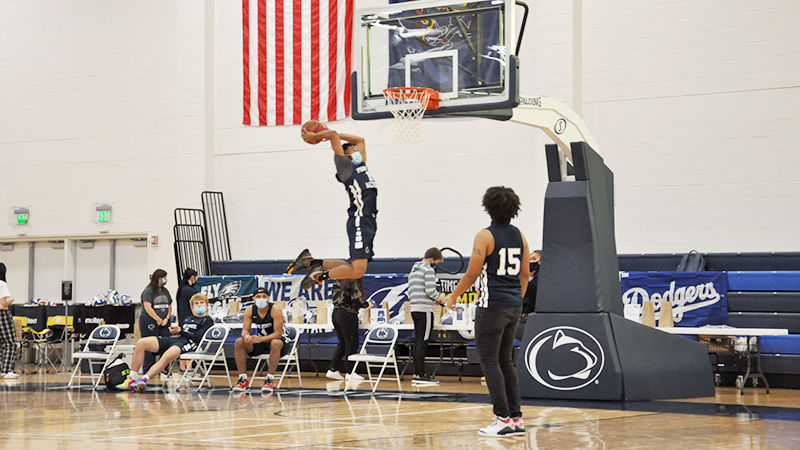 ALTOONA, Pa. — It's been a challenging semester for the Penn State Altoona community. Students are missing a normal college experience with events and activities, in-person classes and labs, and sporting events. In fact, the entire fall athletic season was postponed until spring.
"The Penn State Altoona athletic facilities haven't been the same without our teams competing and our Penn State Altoona community supporting them," states John Carey, director of Recreation and Facilities. "Our department wanted to host an event before the end of the semester, allowing our student-athletes to be recognized, showcase their talent, and interact with other students."
Penn State Altoona Athletics and the Student Athletic Advisory Council (SAAC) planned the Student-Athlete Showcase that took place on Friday, Nov. 13. Eighty student-athletes from all 15 NCAA Division III teams and about 100 student spectators participated in the (socially distanced) night of competition and prizes.
Student athletic teams (masked up and six feet apart) squared off against each other in events like three-point and hotshot competitions, dunk contests, volleyball serving contests, blindfolded penalty kicks, badminton, and corn hole. Fans were selected at random to compete against one another in the same contests.
"The opportunity for all of our students to come to an event on campus where they didn't have to be on a computer and could intermingle in a social capacity was very important, just to feel a little normal again," says David McGreal, head coach for the men's basketball team and coordinator of Student-Athlete Services. "That it surrounded the promotion and recognition of student-athletes made it all the more special since these young men and women are still working hard in practice in hopes of having some semblance of a season."
Thanks to the generosity of the Penn State Altoona Student Government Association, over $2,500 worth of prizes were awarded to students in attendance, including a Yeti 64 Tundra Cooler, Nike Vapormax 2020s, Nike Air Force 1s, 4 Yeti Tumblers, Tampa Bay Lightning Authentic Jersey, and Steelers, Lakers, Lightning, Eagles, and Penguins merchandise.
McGreal says the showcase was one of the most attended events he'd seen in his five years on campus. He was pleased to watch the students enjoy themselves so much.
"My favorite part was how involved everyone got during the fan three-point contest. It was so fun to see the athletes and non-athletes cheering and going crazy for the two guys who were competing. It made me feel really good to see the camaraderie, everyone laughing, yelling, and having fun. It made us all forget about the craziness going on right now in the world."
McGreal adds that it was special to watch the athletes be recognized at one time, to see them smile and feel as though the campus community cares about and supports them.
After the event, students expressed their thanks to organizers for holding the showcase and said how impressed they were.
"Students needed an event on campus that brought them together, and this event did just that," says Allyson Giver, SAAC president. "I am honored that the Student-Athlete Advisory Committee could be the group behind this event. It was awesome to watch everyone become super competitive, and to see the joy and energy it brought students."
Based on its success, both McGreal and Carey hope to offer the showcase again in future semesters.