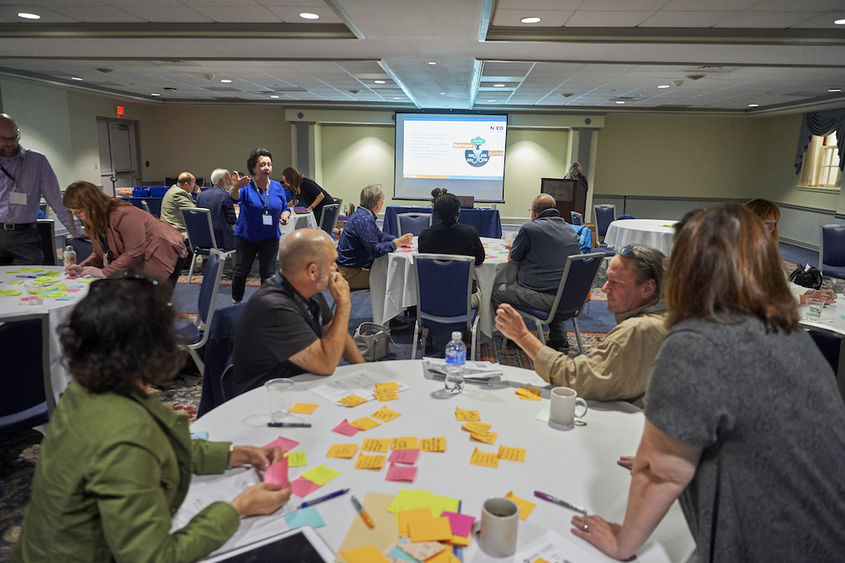 UNIVERSITY PARK, Pa. — There's at least five different academic programs for Penn State undergraduate students to learn about entrepreneurship, with curricula that go far beyond teaching students how to start a business.
"Entrepreneurship education is available to all Penn State students in any major, at any campus," said Anne Hoag, director of the Center for Penn State Student Entrepreneurship and associate professor in the Bellisario College of Communications.
Hoag emphasized entrepreneurship education goes far beyond teaching students how to launch a business — it also prepares students to thrive in the new "gig" economy.
Apart from the ENTI minor, entrepreneurship at Penn State is taught to undergraduate students through the World Campus/Altoona Entrepreneurship minor; the World Campus and Commonwealth College bachelor's degree in business, entrepreneurship track; the Graham Fellows Program at Penn State York; and the Corporate Innovation and Entrepreneurship major in the Smeal College of Business.
1. Intercollege Minor in Entrepreneurship and Innovation
The intercollege minor (often referred to as ENTI) was started in 2012 by faculty representing six colleges and three campuses. It saw rapid growth from 2013 to 2018 when it became the third largest of the more than 200 minors at Penn State.
The 18-20 credit minor currently has nine thematic tracks called clusters: Arts Entrepreneurship, Digital Entrepreneurship and Innovation, Entrepreneurship as Advocacy, Food and Bio-Innovation, Hospitality Management, New Media, New Ventures, Social Entrepreneurship and Technology-Based Entrepreneurship.
It's currently available at the Abington, Beaver, Berks and University Park campuses. Students at any campus can start the minor and complete it at University Park, according to Hoag, who directs the ENTI minor.
2. Smeal College of Business, Corporate Innovation and Entrepreneurship
Known as CIENT for short, the Corporate Innovation and Entrepreneurship major through the Smeal College of Business provides "a rich and rigorous opportunity for students to be exposed to problem-solving within a corporate environment through the corporate innovation lens of the major and/or the hands-on lessons of running your own business through courses focused on entrepreneurship," said Jeanette Miller, director of the CIENT major and associate director at the Farrell Center for Corporate Innovation and Entrepreneurship.
Miller added that CIENT recently added a two-course sequence for students to learn how to start their own business. In the spring, CIENT will also offer an embedded course for international entrepreneurship where CIENT majors and ENTI minors will complete coursework during the first part of the semester and then travel to Bogota, Colombia, to explore the start-up ecosystem there.
3. B.S. in Business, With Entrepreneurship Option
The Bachelor of Science in Business is a professionally oriented business degree program for students seeking a broad overall education and solid grounding in the common body of business knowledge, according to Deb Hommer, business program coordinator at Penn State Altoona and assistant teaching professor.
"The program's interdisciplinary perspective provides you with a versatile base for mobility into all business areas, and prepares you for the business world of today and of tomorrow. The program combines the theoretical underpinnings of core business disciplines, notably management, marketing, finance and logistics, with applied study in a practical setting, especially the small-business climates."
The entrepreneurship option within the major "embraces a broad vision of an entrepreneur, including both the individuals who start their own businesses as well as those who work intrapreneurially within existing organization," Hommer said. "Whether a small, midsize, or large business, organizations can achieve greater success through the creative and innovative thinking of the entrepreneur."
4. Minor in Entrepreneurship
Students in this 19-credit minor can take courses such as New Venture Creation (ENTR320), Financing Entrepreneurial Ventures (ENTR400), New Product Development (ENTR430), Franchising (ENTR440), and Entrepreneurial Marketing.
Hommer said students at any Penn State campus can take the minor since it is offered at Penn State World campus.
5. Graham Fellows Program, Penn State York
The Graham Fellows Program for Entrepreneurial Leadership at Penn State York isn't a degree, but connects students with corporate partners and prepares them to "enter the workforce and have an immediate impact they need to develop an entrepreneurial spirt," according to Allan Lehman, director of the program.
This past April, Penn State York broke ground on a 7,945-square-foot building that will eventually be the epicenter of the program as the Graham Center for Innovation and Collaboration, thanks to the generosity of York businessman and philanthropist Donald Graham.
"While not every student will start their own company, they can all develop a desire to improve themselves, their organization, and their industry as a whole," Lehman said.
The Intercollege Minor in Entrepreneurship and Innovation is part of the Penn State Office of Undergraduate Education, the academic administrative unit that provides leadership and coordination for University-wide programs and initiatives in support of undergraduate teaching and learning at Penn State. Learn more about Undergraduate Education at undergrad.psu.edu.