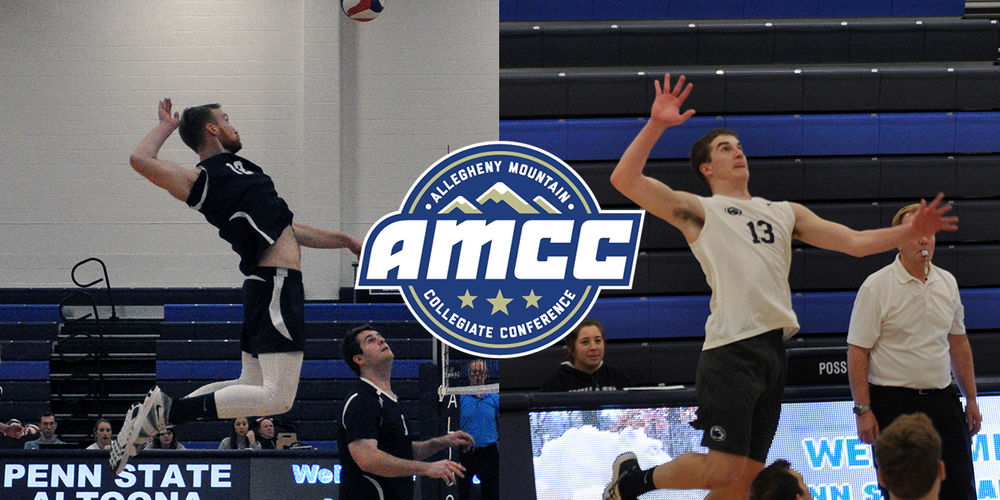 NORTH BOSTON, N.Y. – The Penn State Altoona men's volleyball team was voted into third place in the Allegheny Mountain Collegiate Conference's 2019 Preseason Coaches' Poll, which was released Monday, Jan. 14.
Wittenberg University, which is entering its first season in the AMCC for men's volleyball, was picked to finish first. Penn State Behrend, which claimed the 2018 conference title, was voted into second place.
Now with eight teams following the additions of affiliate members Wittenberg, Geneva College, and Thiel College, the 2019 season marks the first year that men's volleyball will be a full championship sport within the AMCC. The 2019 conference champion will be crowned following the first-ever AMCC men's volleyball postseason tournament, which will be held on April 13-14 at the site of the top seed. An automatic berth into the NCAA Division III tournament will not be available to the conference champion until 2021, due to the mandated two-year waiting period.
Penn State Altoona finished with a 16-13 overall record last season, including a 3-1 mark in the AMCC that tied with Penn State Behrend for the top conference record. Guided by seventh-year head coach Phil Peterman, the Lions – now fully in the AMCC for men's volleyball, leaving behind the North Eastern Athletic Conference – will look for some key returners to lead the way this season.
Named as "Players to Watch" for Penn State Altoona in the AMCC poll were senior middle hitter Dan Downs (Reading, PA/Daniel Boone) and senior outside hitter Brian Sheddy (Shrewsbury, PA/Susquehannock).
Downs was a first team All-AMCC selection last year after leading the conference in hitting percentage (.360) and solo blocks (44). He was also second in the league in total blocks (83), third in points (320.5) and points per set (3.3), fourth in kills (246) and blocks per set (0.85), fifth in kills per set (2.51), and seventh in block assists (39). Downs was also a two-time AMCC Player of the Week.
Sheddy was third in the AMCC in digs (215) and digs per set (2.24), eighth in kills (206), ninth in kills per set (2.15), 10th in points (231.0) and points per set (2.4), and 13th in hitting percentage (.160).
Penn State Altoona men's volleyball gets its 2019 season underway at home this Saturday, January 19 as part of a five-team non-conference invitational. That day, the Lions will face Juniata College at 1:00 p.m. and Immaculata University at 5:00 p.m.