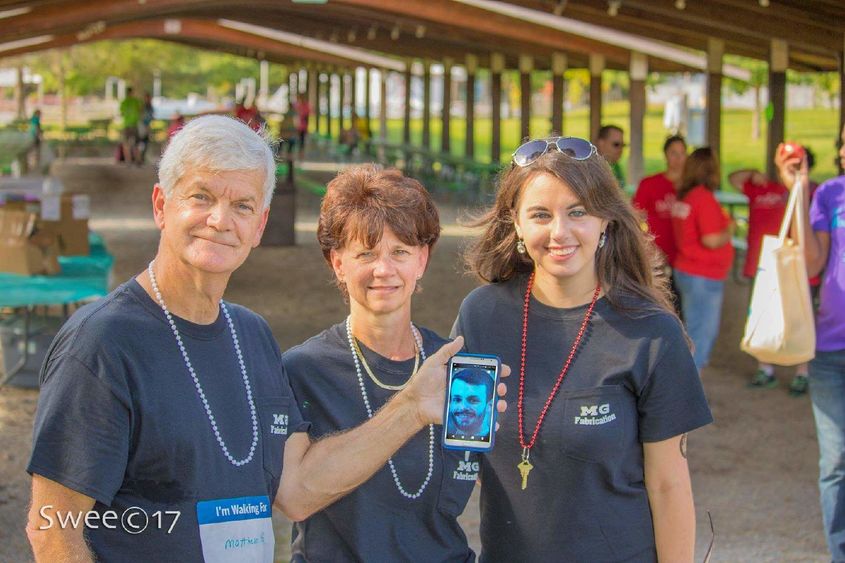 September is Suicide Prevention Month. Alumna Ashley Schreyer is using her own grief to spread awareness and education about suicide and end the stigma surrounding mental illness.
His name was Matthew. She called him Matt. "When we started dating, he wanted to make it special, so he asked me out on February 29, 2016, a leap year. He wanted it to be a date that was unique, something to call ours."
Ashley Schreyer was a shy and quiet elementary education student at Penn State Altoona when she started dating Matt Geishauser. They met through a mutual friend and did everything together. They went camping, hiking, and exploring. They watched movies and hung out. Schreyer says they shared a connection she had never built with another person and that he taught her more about life than anyone else ever had.
She was blindsided when Geishauser took his own life in July 2017. "He was the most supportive person ever. He was my rock and my everything, but I had no idea what he was going through. It's still a shock to this day."        
Schreyer says Geishauser introduced her to so many new things and taught her how to stand up for herself, how to be adventurous, and to keep going forward no matter what. "I learned a lot about that on a hiking trip we took once. We hiked through woods and up a mountain in this crazy humidity. I have an awful fear of snakes and, boy, I'd never seen so many snakes in all my life as we saw that day! But I pushed through and made it to the top of the mountain. Matt told me there was no going back, to just move forward. And that's something I've had to do since he passed away."
After Geishauser's death, some of Schreyer's professors recommended she take a year off of school to begin healing, but remembering his words, she felt she needed to continue her academics. "I was going to graduate on time. It was my plan, it was our plan. He wanted me to become the teacher I wanted to be, and he always encouraged me when I struggled in school. I felt like I needed to prove to him and myself that I could do it despite the pain I was in."
It was not an easy road. "Ashley was strong and fought hard to keep her head above water," says Maryanne Mong Cramer, one of Schreyer's education professors. "When Matt took his own life, I was concerned that she would spiral into the depths of despair. I am so impressed with the direction that she chose to channel her grief, anger, and pain."
Within two weeks of Geishauser's death, there was a public meeting for the Out of the Darkness Blair County Walk, an effort to raise awareness and funds that allow the American Foundation for Suicide Prevention to invest in new research, create educational programs, advocate for public policy, and support survivors of suicide loss. Schreyer went to the meeting seeking an outlet with people who had been through similar experiences. "Something in me was telling me to speak out. Some people think I'm crazy, some people believe me, but I think it was Matt telling me to use my voice and my heart. I had a feeling he was telling me to use my pain for a purpose."
So the student who could barely speak in front of her classmates stood up and shared her story with a crowd of about 50. And she felt empowered. She felt useful. She felt connected to the others in attendance, all affected by suicide in some way.
Schreyer continued to research and to educate herself about suicide. She became active on social media offering guidance and reaching out to others left behind or to those struggling with thoughts of suicide. She says she has found that many people don't know how to talk about these things or how to cope. Her mission is to spread awareness about suicide and mental health and create space for safe and open dialogue.
"I feel the best way to touch others is to get on their level and have a connection, so that's why I openly share my story. Since I've been doing that, so many people have told me that they finally found someone who understands them and what they're going through. Others have said it's an incredible feeling to have someone reach out to them and to care about them."
Schreyer says sometimes there are those who don't understand why she continues to speak on the subject when it's so distressing to her. "Yes, it upsets me, but it upsets me even more when people don't talk about it, that they hide what they're feeling, what they're grieving. So I want to let them know it's okay to talk about their problems. I want to advocate for prevention and break stigmas surrounding mental health."
At the first Out of the Darkness meeting Schreyer went to, she found out about and attended an Out of the Darkness Walk held at Lakemont Park in September 2017. Three hundred people attended, and Schreyer once again stood tall and I spoke out. "It made me feel I could do anything and like I was not only serving my own purpose, but doing something for Matt as well. He's not here with us to fulfill his own purpose anymore, so in his memory, I'm doing it for him."
Schreyer also took part in a local Suicide Survivors Day last November, held at the Altoona Library, where people affected by suicide spent the day together talking, doing activities, and helping each other through the healing process. She spoke again at this year's Out of the Darkness Walk and will speak at the upcoming Never Forgotten Suicide Prevention and Memorial Walk in Rocky Gap State Park in Maryland on September 30.
Schreyer is thrilled at the opportunity to be a guest speaker at an event in a different state.
"As tragic as his loss was, something great is coming from it. Through Matt's death, I've discovered that this is what I am supposed to be doing. I am meant to teach, to educate, to spread awareness, to be there for people. I had low self-esteem before Matt, but he showed me what I am capable of doing. Some things happen for a reason and maybe this was for me to grow. Maybe he was meant to be my guardian angel."

—Penn State alumna Ashley Schreyer
Before she lost Geishauser, Schreyer wanted to be a teacher. She's currently working as a special education aide within the Altoona School District. But now, she sees more of what she can do. She's thought of becoming a school counselor. She's thought of writing a book about her experience. She dreams of offering a TED Talk someday, and she sees herself traveling all over the country to talk. As Cramer says, Schreyer has shown strength, grace, and determination throughout the last year and a half. "Having known her before and after the pivotal event, I saw the transformation from an often shy, overwhelmed, and hesitant young woman, into a strong leader able to share the most painful, very private moment in her young life.  I told her when she contacted me about the Maryland engagement that she is a phoenix, rising from the ashes and inspiring the people around her."
Schreyer plans to speak about hope at the Rocky Gap event. She says it's easy to lose sight of that in the aftermath of losing someone to suicide, but there won't always be rainy days. Happiness can still be found.
She is gaining her hope and happiness back a little more with each day. In fact, through her advocacy, she's met someone new—a loving, supportive, and understanding partner whose brother took his own life. "I feel like his brother and Matt brought us together. Through our shared experiences, we know how to be there for each other. It makes me hopeful for the future."
---
If you or someone you know is in immediate crisis, please call 911.
Visit the Penn State Altoona Health and Wellness Center page for resources on campus.
Further resources