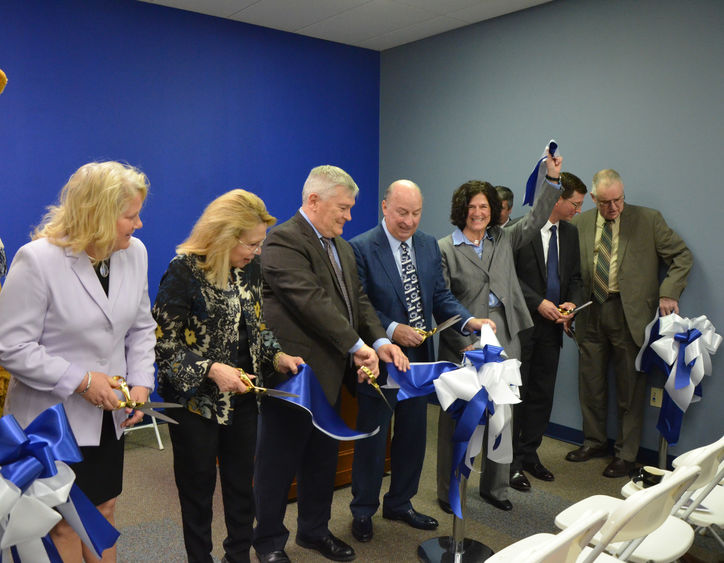 ALTOONA, Pa. — Penn State Altoona furthered its commitment to innovation and economic development with the Altoona LaunchBox dedication and ribbon-cutting June 1 at the Gables Building, located at 1331 12th Ave. in downtown Altoona.
LaunchBox is a signature program of the Invent Penn State Initiative, a Commonwealth-wide system to spur economic development, job creation, and student career success. Invent Penn State blends entrepreneurship-focused academic programs, business startup training and incubation, funding for commercialization, and University-community collaborations to facilitate the process of turning ideas into viable products and services.
Altoona LaunchBox is a no-cost startup accelerator and co-working space designed to provide early-stage startup companies with the support and resources needed to build a sustainable business and a viable plan for growth. It is open to community members and those affiliated with Penn State.
In June 2016, Penn State Altoona was awarded a $50,000 seed grant from the Invent Penn State Initiative to develop Altoona LaunchBox, and in October 2016, six business startups began a partnership with the program. As Altoona LaunchBox grows, it will have the capacity to facilitate 20 startups per year. Altoona LaunchBox is one of 13 innovation hubs located in Penn State campus communities across Pennsylvania.
University Present Eric Barron spoke during the Altoona LaunchBox dedication, along with Penn State Altoona Chancellor and Dean Lori J. Bechtel-Wherry, and Steve Sheetz, director of Penn State Altoona's Sheetz Fellows Program, while several other local dignitaries also participated in the official ribbon-cutting ceremony.
"Within this building, the pursuit of entrepreneurial aspirations through the development of business ideas and concepts will be aided by an array of resources, including advanced technology, team-based approaches, and training programs facilitated by business experts," said Bechtel-Wherry. "Altoona LaunchBox is yet another symbol of the commitment to the economic revitalization taking place throughout Blair County that is shared by the University, Penn State Altoona, and our community."
Learn more at launchbox.psu.edu or altoona.psu.edu/launchbox.