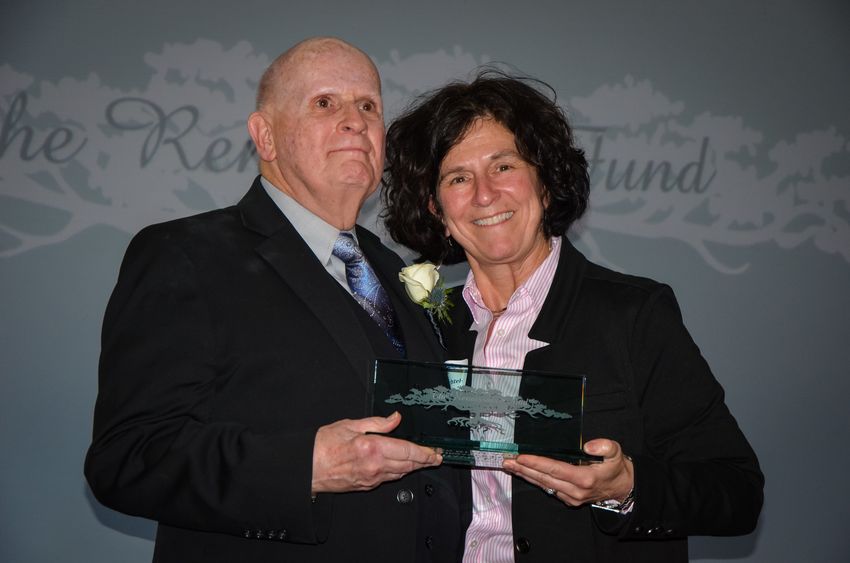 Penn State Altoona celebrated its third Renaissance Fund Dinner in honor of C. David Kimmel Friday, April 7 at the Heritage Discovery Center in downtown Altoona, which was attended by about 200 guests.
Nearly $100,000 was raised for the event that honored Kimmel for his dedicated and unwavering support of Blair County, Penn State Altoona, and the University. The program, emceed by Jonathan O'Harrow and Karen Volpe, also featured remarks from Jennifer Phillips, a student scholarship recipient of the Harry Adler and Louis Coppersmith Memorial Renaissance Scholarship; Jerry Murray, president of UPMC Altoona and UPMC Bedford Memorial; and Lori J. Bechtel-Wherry, chancellor and dean of Penn State Altoona, in addition to closing remarks from the honoree, C. David Kimmel. The event included a performance from the campus' premier vocal ensemble, Ivyside Pride, directed by Bonnie Cutsforth-Huber and surprise appearances from the Penn State Nittany Lion and Bear E. White, the official mascot of the Alumni Society's annual Winter Plunge event.
The Renaissance Fund was created by five University trustees in 1969. Since the Renaissance Fund's inception the total endowment has grown to nearly $15 million. To date, 570 scholarships have been awarded for the 2016-17 academic year. Renaissance Fund dinners honor extraordinary individuals whose leadership and service have had a profound impact on their communities. Income from all Renaissance Fund endowments is directed to scholarship support for talented students who might not otherwise be able to choose Penn State and who help to make the University a stronger and more diverse institution.
The 2017 Renaissance Fund Dinner Planning Committee included members Tony DeGol, John Gallace, Judy Halbritter, Brent Hurley, Gail Irwin, Ellen Paterson, and Roz Sky.
Kimmel retired from his second tenure at Penn State Altoona in June 2016 as associate director of alumni relations and stewardship. After graduating from Penn State in 1962, Kimmel accepted a position at Penn State Altoona, then the Altoona Campus of The Pennsylvania State University. He was named the campus' first director of University Relations.
Kimmel served as director of marketing and communications at Mercy Hospital Altoona, later Bon Secours-Holy Family Regional Health System from 1978 to 2002 before joining the leadership team of the American Cancer Society with a six-year run as region vice president of the American Cancer Society, Pennsylvania Division's Central Region from 2002 to 2008.
In 2010, Kimmel made a gift to create the C. David Kimmel Trustee Scholarship which provides support for students studying communications with high financial need. Kimmel was inducted into the Platinum category of the college's donor recognition society, Ivyside Society. As associate director of alumni relations and stewardship, Kimmel served as the liaison to the Alumni Society Board of Directors. Under his direction, the Alumni Society created a Trustee Scholarship as part of the society's ongoing commitment to helping students, and was inducted into the Ivy Circle category of Ivyside Society, the highest level of giving at Penn State Altoona. In 2013, the Alumni Society partnered with the student-led group, Penn State Altoona Benefiting THON, to create the Winter Plunge, an annual fundraiser that raises money for the Alumni Society Scholarship Program and the Four Diamonds Fund at Penn State Hershey Children's Hospital. Since its inception, more than $171,000 has been raised for the two causes.
A member of the Pi Lambda Phi Omega Gamma Chapter at Penn State, he later founded and served as adviser to the Omega Delta Chapter at Penn State Altoona. He was a member of the fraternity's National Council and received the Pi Lambda Phi National Alumni Achievement Award in both 1975 and 1977 and the National Council Key in 1978.
An Altoona native, Kimmel has dedicated his life to serving the missions of many community organizations, including Altoona Community Theatre, American Cancer Society, Blair Chamber of Commerce, Blair Senior Services, Boy Scouts of America, Catholic Charities, Child Advocates of Blair County, Kiwanis International, and many others. In 2011, Kimmel was recognized with the Blair County American Cancer Society's Shirley A. Pechter Pinnacle Award for his notable volunteer achievements and accomplishments in furthering the organization's mission in Blair County and active involvement in the community.
Kimmel is also involved with the Altoona-Johnstown Catholic Diocese, and served as co-chair of the successful $1.2 million Cathedral of the Blessed Sacrament Parish 2015 Capital Gifts Campaign, which raised funds for the creation of the parish's education center. In 2015, he was the recipient of the Outstanding Fundraising Professional Award from the Allegheny Mountains Chapter of the Association of Fundraising.
Currently, Kimmel serves as a loyal member of college's Alumni Society Board of Directors and History and Archival Committee.
Penn State Altoona held its first Renaissance Fund Dinner in 2005 in honor of the late Bill Rossman. In 2015, the campus honored Steve and Nancy Sheetz.
To make a gift to the C. David Kimmel Renaissance Scholarship, contact N. Susan Woodring, director of development and alumni relations, at 814-949-5104 or [email protected]. To make a gift to scholarship online, visit giveto.psu.edu/kimmelrenaissancefund. To learn more about the Renaissance Fund program, contact Kathy Kurtz in the Office of Annual Giving at 814-863-2052.