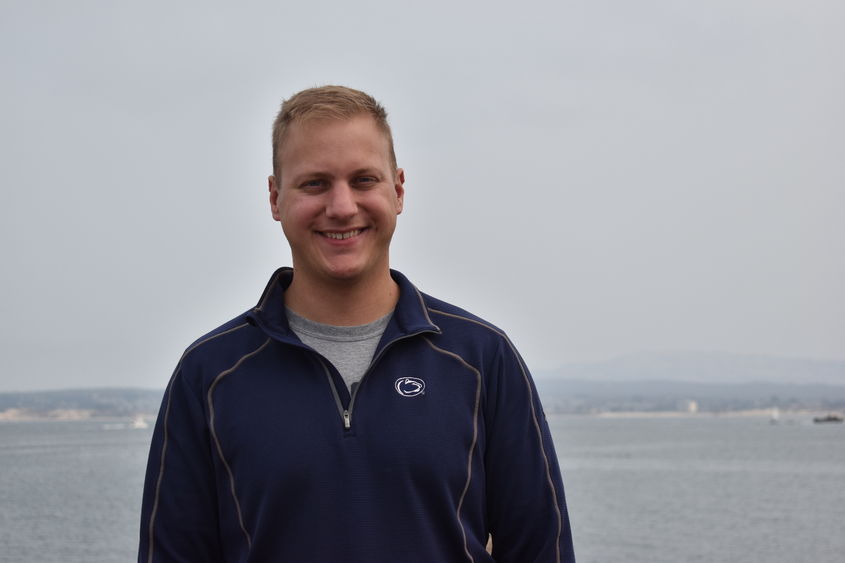 UNIVERSITY PARK, Pa. — Growing up, John McFarland didn't know he would one day serve in the United States Navy, but his passion for leadership led him there.
McFarland, a 2013 College of the Liberal Arts alumnus, graduated from Penn State with degrees in classics and ancient Mediterranean studies and history. After graduation, McFarland spent three years as a team sports sales leader at Dick's Sporting Goods in Altoona, Pennsylvania, before attending the Navy's Officer Candidate School in Newport, Rhode Island, in 2016 and commissioning as a naval officer that November.
"A big reason why I wanted to join in the first place is because everyone is trying to figure out what they want to do when they grow up, and I didn't really know I wanted to join the Navy until a year or two after I graduated," McFarland said. "I didn't really know what I wanted as a career, but I wanted a leadership position and to grow as a leader."
McFarland said the most unique part of his career in the Navy is the different people he is lucky enough to meet.
"I have worked with people from all across the world," McFarland said. "It is really cool to see the different perspectives, and it's kind of eye opening."
From 2016 to May of this year, McFarland was on the USS Jason Dunham as a main propulsion officer and more recently as a fire control officer. Now, he is in Monterey, California, attending the Naval Postgraduate School working on his master's degree in national security and affairs.
"Even going all the way back to Penn State, I wanted to go and get a more advanced degree," McFarland said. "I have always enjoyed the learning experience and increasing my knowledge. National security and affairs kind of fits in with the undergraduate degrees that I have. It is kind of a natural progression."
"It is also helpful in my career. We deployed in 2018 and went through the Mediterranean, spending a lot of time in the Red Sea and the Gulf of Oman. It is helpful to know what's going on and how the United States is handling those countries as well."
Looking back on his Penn State education, McFarland said it's difficult to choose just one favorite class but if he had to, it would be a course on the history of ancient Greece that he took with Steven Andrews, associate teaching professor of history, while at Penn State Altoona during his first two years.
"It simultaneously introduced me to the history and classics and ancient Mediterranean studies fields and began to satisfy my lifelong interest in ancient Greece," McFarland said. "Dr. Andrews made such a positive impact on my college experience. His teaching style worked well for me, and he had an incredible amount of knowledge about the courses he taught."
During his final semester at Penn State, McFarland volunteered as a collections technician at the Pennsylvania Military Museum.
"I got a taste of several aspects of what makes a museum run successfully — from maintaining collections to assisting at events to preparing new collections for display," McFarland said.
"Studying history offers numerous examples of how previous leaders overcame the challenges of their day. These lessons can provide a blueprint for how to overcome the problems of our own time."
McFarland said his liberal arts education gave him several skills that prepared him for life in the professional world, one of the most important being critical thinking skills.
"As we are constantly bombarded with information, it is imperative that professionals are able to think critically about the information they encounter."
McFarland also has relied on the networking skills he acquired at Penn State.
"It's absolutely true that networking can help you get hired," McFarland said. "I've also found that networking can open up some opportunities that you wouldn't have otherwise been aware of. Good networking will help you start your career, and it will also help you progress through it.
"The saying 'It's not what you know, it's who you know,'" is repeated often for good reason."
Read McFarland's alumni profile to learn more about his post-graduate journey. Liberal Arts alumni are encouraged to submit a profile to show current students the limitless possibilities of a Liberal Arts degree.