University strongly encouraging all students, faculty and staff to get vaccinated as soon as possible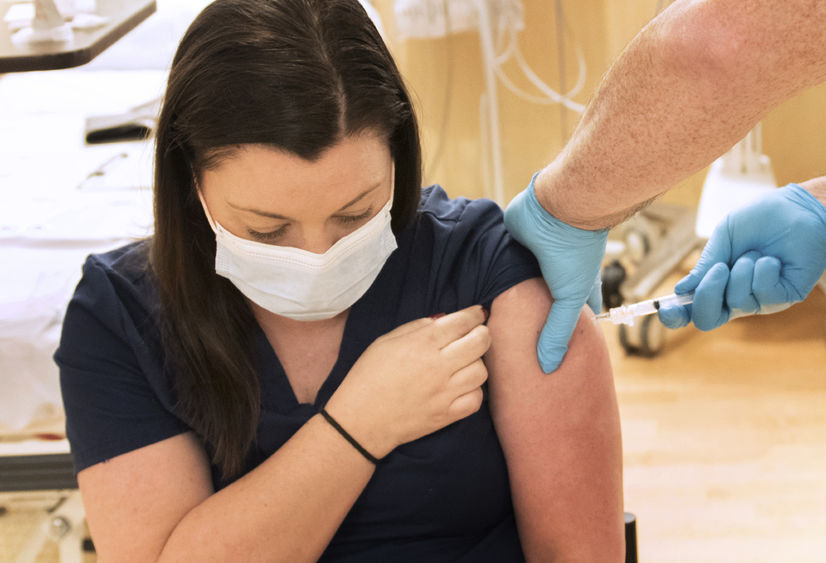 UNIVERSITY PARK, Pa. — Penn State is partnering with Walmart to offer a COVID-19 vaccination clinic that is open to Penn State students, employees and dependents of employees age 16 and older beginning Thursday, April 22, through Saturday, April 24, inside Pegula Ice Arena on the University Park campus. The clinic will run from 8:30 a.m. to 4 p.m. each day. Students and employees will be asked to show their Penn State ID upon arrival to the site, and dependents will need to acknowledge that they are the family member of an employee.
The clinic will offer 1,170 first-shot doses of the Pfizer-BioNTech vaccine over the three days. Under Phase 2 of Pennsylvania's vaccine distribution plan, anyone age 16 and older is eligible for a vaccine. However, at this time, only the Pfizer-BioNTech vaccine is approved for those ages 16 and 17.
Appointments are required. Click here to sign up for an appointment. Those who do not have a MyIR account will need to sign up for an account prior to registering for an appointment. After registering and/or signing in, individuals will need to select "Scheduling" on the left side of the page and then "Schedule a New Service. "
The clinic will reopen May 13-15 to administer second doses of the vaccine to those who received the first dose at the April event. Individuals should only sign up for an April appointment if they know they are able to return to the clinic three weeks later to receive their second dose.
"We are thrilled to be able to partner with Walmart to offer this important vaccination opportunity to the Penn State community," said Kelly Wolgast, director of Penn State's COVID-19 Operations Control Center. "Available time slots are limited, and we expect appointments to be in high demand, so I urge any member of our community who has not already received a vaccine to sign up quickly."
Penn State is strongly encouraging all students, faculty and staff to sign up to receive the first vaccine that is available to them. As an incentive for students to get vaccinated, the Penn State Berkey Creamery is offering a certificate for a free ice cream cone to the first 500 students who sign up for and receive their vaccine at the clinic. Other on-site incentives are planned as well for those who sign up to be vaccinated.
Although the vaccine is being offered at no cost, individuals should bring their insurance card to their appointment. In addition, individuals should arrive at Pegula Ice Arena's Entrance B approximately 10 minutes before their scheduled appointment to allow time for paperwork completion and plan to stay 15-30 minutes after receiving their vaccine for monitoring. Those driving to Pegula for their appointment must follow all posted parking lot restrictions around the arena; individuals are encouraged to walk when possible.
Due to the vaccine clinic, walk-up COVID-19 testing will not be available at Pegula Ice Arena from April 22-24. Walk-up testing will continue to be offered at the Hintz Family Alumni Center from 9 a.m. to 5 p.m., Monday through Saturday, as usual.
In addition to the Pegula vaccine clinic, the Pennsylvania Emergency Management Agency and Pennsylvania Department of Health are operating a Regional Vaccination Clinic inside the Bryce Jordan Center on Penn State's University Park campus.
The Pennsylvania Department of Health website features a map of vaccine providers that includes hospitals, urgent care centers, doctor's offices and pharmacies, and also includes specific support and guidance for college students, including information about how students can ensure they receive their second vaccine dose once they leave campus. Several pharmacies, Mount Nittany Medical Center and Centre Volunteers in Medicine also are administering vaccines in the Centre Region.
The latest COVID-19 vaccination information for the Penn State community is available on the University's 's coronavirus information website.