Deadline for proposals and poster submissions is Friday, March 26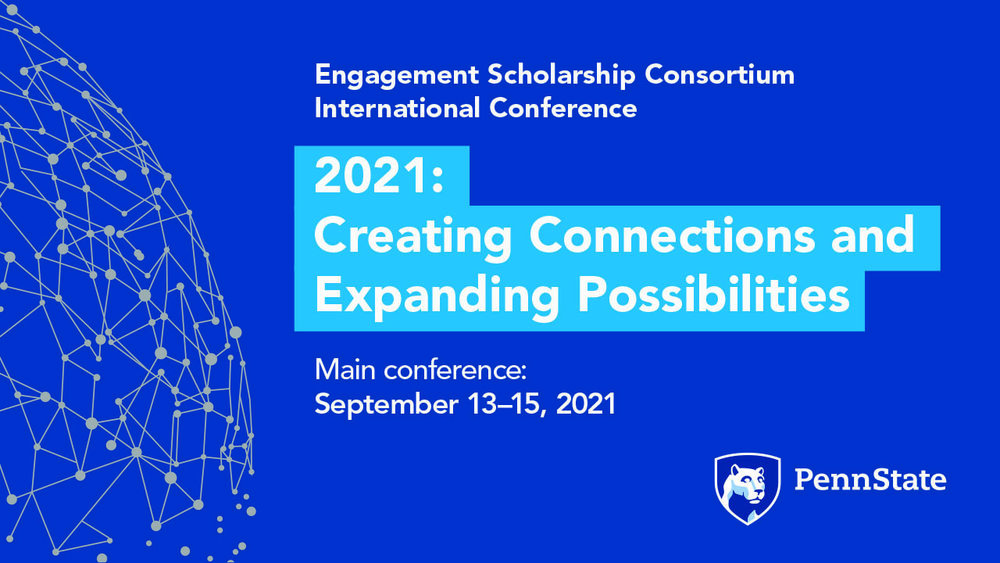 UNIVERSITY PARK, Pa. — Penn State faculty, staff and students from all campuses, as well as local K-12 educators and community partners, are invited to submit proposals and poster ideas for a conference that highlights the importance and benefits of student and community engagement.
Submissions will be selected for the 2021 Engagement Scholarship Consortium Conference, to be held virtually Sept. 13-15. The deadline to submit proposals from college faculty and staff, K-12 educators and community partners, and poster ideas from students, is Friday, March 26.
Nicholas Rowland, sociology professor at Penn State Altoona and programming committee chair for the conference, said this year's conference, themed "Creating connections and expanding possibilities," will explore new forms of connection and expand future possibilities for engagement with equity, inclusion and anti-racism firmly in mind.
"Students, faculty and community partners have found innovative ways to remain engaged despite the challenges that COVID-19 has produced," Rowland said. "Let's take the opportunity to learn from that. This conference is a perfect venue to share your experience, expertise and scholarship as we strive to create a more inclusive and equitable future for engagement."
College faculty and staff, and K-12 educators and community partners can submit proposals for panels, presentations, posters and workshops. Successful proposals will advance discourse about engaged scholarship and evidence-based practice by communicating research findings, program designs and impacts, lessons learned, and curricular and policy development reflective of diverse contexts, partnerships, populations and institutions.
For the first time, the conference will feature a special lightning session that highlights the work K-12 educators and community partners are doing that could benefit from and/or inspire new university partnerships. Individuals and groups can also showcase an existing university-community partnership, project or effort, and learn more about the value of university-community partnerships and make new connections.
Undergraduate and graduate students are encouraged to submit poster ideas that highlight their past or upcoming engaged scholarship experiences. Successful posters should showcase community engagement efforts accomplished through research or service works.
"Students are the future of engagement and engaged scholarship," Rowland said. "We want to include undergraduate students, their perspectives and their experiences."
Penn State will serve as the conference's host, along with regional partners the University of Delaware, Dickinson College, James Madison University, Swarthmore College, Virginia Tech and West Virginia University.
The Engagement Scholarship Consortium is a nonprofit educational organization composed of higher education member institutions. The consortium's goal is to work collaboratively to build strong university-community partnerships anchored in the rigor of scholarship and designed to help build community capacity.
Visit the Engagement Scholarship Consortium conference website for more information and submission requirements.