Volunteers donate reusable cloth masks to State College community to help slow the spread of COVID-19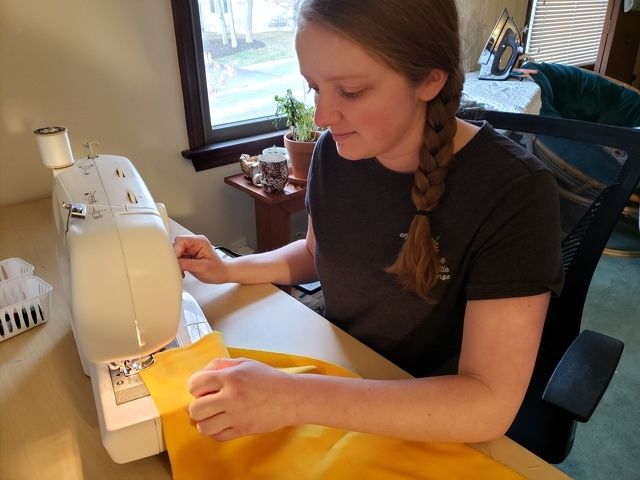 UNIVERSITY PARK, Pa. — More than 2,500 masks have been donated to families and small businesses in Centre County, thanks to the efforts of Penn State physics graduate student Rachael Huxford.
Since March, Huxford has coordinated hundreds of local sewers through a group known as the State College Mask Makers to help meet demand during the COVID-19 outbreak. Among the group are more than 50 members of the Penn State community, including staff, faculty, students, alumni and parents, representing more than 12 academic colleges at University Park, as well as Penn State Altoona and World Campus.
The Centers for Disease Control and Prevention (CDC) recommends wearing masks in public settings, like the grocery store and pharmacies, to help slow the spread of the coronavirus. In Pennsylvania, Gov. Tom Wolf has called for individuals to wear masks whenever they leave the house.
"When the COVID-19 outbreak first spread into the United States, many of us were trying to identify the most up-to-date information about masks," said Huxford. "It seemed like new patterns and recommendations for use and care were coming out every few hours; it was hard to keep up. I originally created the Mask Makers group to help local sewers share the newest information, but within a week, we started to have requests from the community for masks."
The first requests came from group members with friends and family working at essential businesses or with relatives in local assisted living and nursing homes. When Gov. Wolf formalized the call for employees to wear masks at their places of businesses, the requests came pouring in. To date, the group has donated masks to more than 100 families and 40 small businesses, as well as several nursing homes and a local psychiatric center.
"We have provided masks to restaurants, veterinary clinics, mail carriers, grocery store employees, dog kennels, taxi services, as well as some healthcare workers and first responders, and of course many individuals and families who need them," said Huxford. "We have received a lot of really sweet feedback from the small businesses and families who are just grateful to have something. I have a bunch of thank you letters hanging on my fridge right now, which I've shared with our group."
The group, composed of sewers of all skill levels, provides a variety of different styles of masks that can be requested based on an individual's needs. Masks are provided free of charge, with members pulling materials from their existing fabric stashes and some donations from the community.
"We have a few members that each make around fifty masks a week, but most of our members contribute 10 or 15 each week, which really adds up," said Huxford. "It's an amazing pooling of community resources, time, and information."
One State College Mask Makers member from Penn State Extension, Tara Mondock, serves on the board of the Centre County Farm Bureau (CCFB) and is working to connect local farms with needed masks.
"This is an incredibly generous group of passionate folks who have worked amazingly well together to make a huge impact way beyond Centre County," said Mondock.
The State College Mask Makers group also coordinates with other local mask-making groups to better serve the community. In April, the group merged with the Happy Valley Moms Making Masks — formed by Director of Enterprise Solutions for Penn State IT Shuchi Nalepa — so both groups could better share materials and information and fulfill requests.
"Rachael is incredibly well organized, selfless, and has done a superb job in meeting the needs of a growing number of organizations and businesses," said Nalepa. "I feel blessed to live and work in a community where people just want to do good by each other and make a positive impact."
The State College Mask Makers group's focus on small businesses and individuals also compliments efforts of sewers with the Makery, an arts and crafts studio in downtown State College, which initially prioritized requests from healthcare workers. Now the groups help each other fill their biggest requests, and are coordinating "mask trees," where masks are placed in public spaces for community members to take as needed.
"It's been really amazing to see so many different people come together to serve the community in this time of need," said Huxford. "I'm impressed by the dedication and selflessness of our sewers and am proud to be a part of this group and community."
"We Are" stories
The "We Are" spirit is perhaps more important than ever before, and Penn Staters everywhere are coming together in new and amazing ways. During these challenging times, our community is continuing to realize Penn State's commitment to excellence through acts of collaboration, thoughtfulness and kindness. As President Eric Barron has written on Digging Deeper, this truly is a "We Are" moment — and we want to hear your "We Are" stories.
Visit news.psu.edu/WeAre to share how you or other Penn Staters are supporting each other to overcome the collective challenges presented by novel coronavirus. We are!