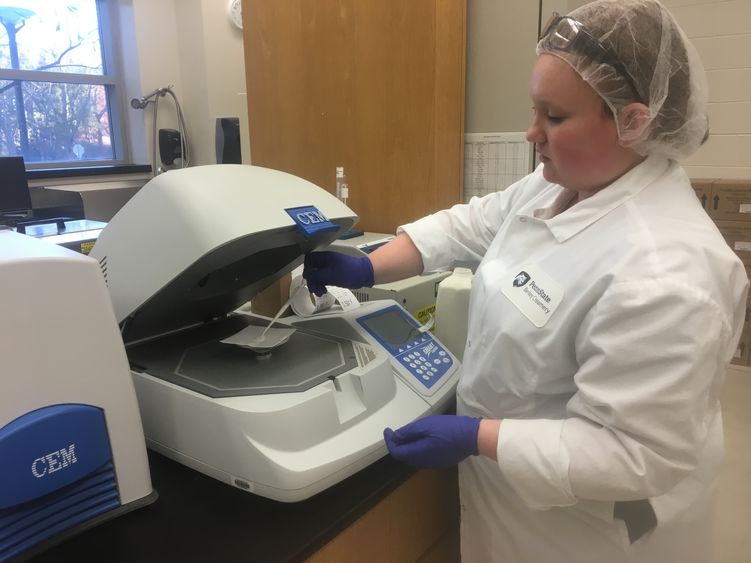 UNIVERSITY PARK, Pa. — For most people, an M&M is just another candy, but for Brianna Elicker, it gave her a taste of her future.
Elicker, of York, a senior majoring in food science in Penn State's College of Agricultural Sciences, has had a passion for food and agriculture from an early age. Her interest was sparked in middle school when she was introduced to a relative who was a Penn State food science alumnus and a member of the M&M-Mars design team that created the blue M&M.
When discussing the experience with her relative, Elicker was shocked by the vast amount of work required, "just for this little piece of candy." Influenced by that transformative encounter, she wanted to learn as much as she could about where we get our food.
At 14 years old, she started working at DuPont Pioneer as a summer corn pollinator, a job she held for four years.
"I'd describe it as being a human bumblebee," she said.
Elicker remembers making the hourlong drive every summer morning with her dad, sleeping in the passenger seat until it was time to work.
She was also a member of the Eastern York High School FFA chapter, where she competed at the regional level for the school's team in the dairy foods judging competition.
"I like to say that we sniffed milk and ate cheese the whole time," Elicker said.
During her first two years at Penn State Altoona, Elicker spent her summers working as a research assistant intern with DuPont Pioneer, where she helped maintain field research crops, assisted in data collection, and tested for crop traits including diseases.
Elicker's involvement with agricultural sciences only increased when she got to the University Park campus. In January 2018, she was accepted to attend the Agriculture Future of America (AFA) Food Institute. She joined other food science students and professionals at the organization's culminating event in Chicago, where she was able to tour food manufacturing companies like Tate & Lyle and hear speakers such as the chief executive officer of PepsiCo.
The experience solidified Elicker's passion for food science.
"I felt so empowered that I wanted to come back to campus and change the world," she said.
She continued to apply for AFA's other institutes, and now a year after her first conference, she will soon have attended all six of the organization's available conferences. Beyond Chicago, she has traveled from Iowa to Orlando, Florida, to Washington, D.C., learning about different facets of the food science industry, such as technology, animal handling and policy.
Christopher Sigler, assistant teaching professor in the Department of Food Science and academic adviser to Elicker, said he is glad that she is seizing the opportunities available.
"Our department not only likes to reward excellence, but we also like to assist students, such as Brianna, in pursuing their dreams," he said. "If they have to go across the United States or the world to be the best student they can be, we're going to do everything in our power to make it happen."
This past summer, Elicker interned at the Sensory Evaluation Center at Penn State, which conducts sensory evaluation and consumer tests for University researchers and food industries. Now a staff member at the center, Elicker assists in conducting tests to assess the features of various food products, deciding if something is too soft, too salty or off-texture. She then serves samples to panelists, gauges their responses, and relays the data back to the food company to improve its product.
In addition to working at the center, Elicker is a quality assurance intern at Penn State's Berkey Creamery, where she is responsible for microbial plating and environmental swabbing for the products Penn Staters and visitors alike know and love.
When Elicker is not at the Creamery or studying, she represents the College of Agricultural Sciences as an Ag Advocate, a team of exemplary students within the college that assist with the recruitment of prospective students and bridge the gap between alumni and current students.
"I spend about five hours a week on campus somewhere telling my story of how I became involved with food science and agriculture, promoting the department to either alumni or new students," Elicker said.
She's a wonderful representative, according to Sigler.
"She's willing to provide insight and wisdom to allow future students to have all the information to make an informed decision, whether it's this degree or not," he said. "She's generally interested in being an all-around great person."
Aside from the Ag Advocates, Elicker also is the ag relations chair in the Food Science Club. The club hosts companies such as Hershey and Mondelez to talk about internship and job opportunities.
"Usually, their representatives come Monday night for a meeting, and then students can interview for those positions the very next day," Elicker said.
After Elicker graduates this May, she hopes to continue working in food-quality assurance. Her long-term goal is to work in product development.
"I want to make something super spectacular that you see on the shelves all the time and that people are always wanting to get their hands on," she said. "I am grateful that Penn State has helped me grow my talents through so many opportunities."