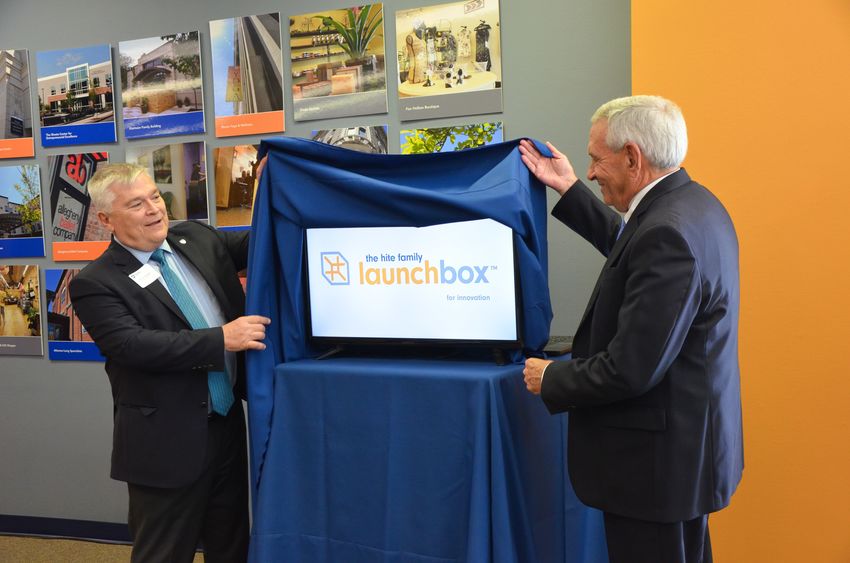 Penn State and the Invent Penn State initiative today are celebrating a $1 million gift from Altoona business leader Lee Hite and his family to support the LaunchBox at Penn State Altoona. The LaunchBox is one of 21 innovation hubs Penn State has opened across the commonwealth to provide early-stage startups with viable plans for growth and the support and resources needed to build a sustainable and scalable business. To recognize Hite's gift, the University will rename the downtown Altoona center "The Hite Family LaunchBox for Innovation at Penn State Altoona."
"Penn State and the Altoona community are deeply fortunate to receive this generous gift from the Hite family," Penn State President Eric Barron said. "We believe that our innovation hubs are key to driving economic development in Altoona and across the commonwealth, and contributions from alumni, corporations and community partners like Lee will ensure that our innovation hubs can serve Pennsylvania's communities for years to come."
Opened in June 2017, the LaunchBox at Penn State Altoona has already graduated 24 startups, accepted four local startups as tenants, and maintained an average daily foot traffic of 15 entrepreneurs. While all services are available to anyone—community members, students and faculty—the LaunchBox at Penn State Altoona focuses its efforts on supporting community members who aspire to become business owners.
As part of A Greater Penn State for 21st Century Excellence, the University's current fundraising campaign, each of Penn State's 21 innovation hubs has the opportunity to secure $1 million in matching support from the University when gifts to the hub's endowment reach $1 million. The combined funds will provide operational funding to the innovation hub each year, ensuring that it continues to spark economic development and support entrepreneurship in perpetuity. In January, the University announced a $1 million grant from PNC Bank to fund and name the Happy Valley LaunchBox, Powered by PNC Bank. The LaunchBox at Penn State Altoona is the second innovation hub to reach its $1 million goal.
"My family and I are delighted to make this gift not only to support the LaunchBox at Penn State Altoona, but also to strengthen the Altoona community we care so deeply about," Hite said. "We have built our livelihood through entrepreneurship, and with this gift we hope to help other aspiring entrepreneurs to find their own paths to success. We have long been devoted supporters of many local charities, but this giving opportunity was particularly exciting because at the core it's about entrepreneurship."
A longtime resident of Altoona, Hite has committed to community support for both business and nonprofit organizations. He served for more than 50 years as associate and owner of The Hite Company, an Altoona-based electrical distributor serving commercial, industrial and retail markets. He serves as chair of the Penn State Altoona Advisory Board and a board member for several other Altoona charities.
"The Hite Family LaunchBox for Innovation at Penn State Altoona will be an extraordinary resource for local entrepreneurs who have a business idea but need support to make their idea a reality," said Penn State Altoona Chancellor and Dean Lori J. Bechtel-Wherry. "My hope is that, in the years to come, downtown Altoona will be filled with storefronts and other businesses that started in The Hite Family LaunchBox for Innovation."
The Hite Family LaunchBox for Innovation at Penn State Altoona provides no-cost business advice, including support for product development, connections to manufacturers, opportunities to meet mentors, lenders and potential investors, possible tax credit incentives, and legal and intellectual property advice, as well as co-working and meeting space Monday through Friday
8:30 a.m. to 4:30 p.m. The LaunchBox also offers a no-cost startup accelerator program—the Bootcamp—which affords participants the chance to win a $10,000 cash award as well as legal and accounting support. Learn more at sites.psu.edu/altoonalaunchbox or contact Donna Bon at [email protected].
Invent Penn State is a Pennsylvania-wide initiative to spur economic development, job creation, and student career success. Invent Penn State blends entrepreneurship-focused academic programs, business startup training and incubation, funding for commercialization, and University-community collaborations to facilitate the challenging process of turning research and discoveries into valuable products and services that can benefit residents of the state and all humankind. Learn more at invent.psu.edu.
This gift from Hite and his family will advance A Greater Penn State for 21st Century Excellence, a focused campaign that seeks to elevate Penn State's position as a leading public university in a world defined by rapid change and global connections. With the support of alumni and friends, A Greater Penn State seeks to fulfill the three key imperatives of a 21st century public university: keeping the doors to higher education open to hardworking students regardless of financial well-being; creating transformative experiences that go beyond the classroom; and impacting the world by fueling discovery, innovation and entrepreneurship. To learn more about "A Greater Penn State for 21st Century Excellence," visit greaterpennstate.psu.edu.