With help from Happy Valley LaunchBox's FastTrack Accelerator Program, Nicholas Unis is turning 3D-printed shoes into a viable product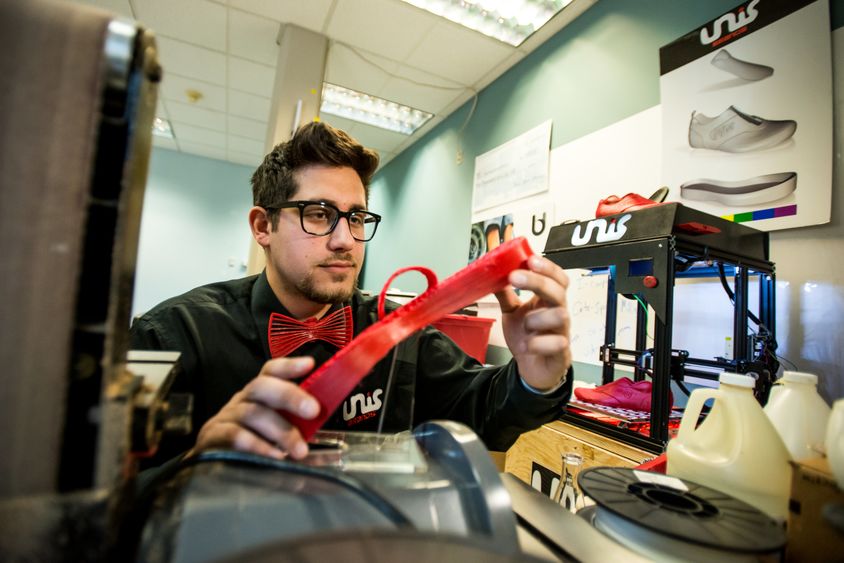 UNIVERSITY PARK, Pa. — For every challenge encountered in the process of building a business, Nicholas Unis, a junior in the Smeal College of Business, has relied not only on his own creative ingenuity and determination, but also on the resources and connections Penn State offers to budding entrepreneurs.
Unis, who enrolled at Penn State through the 2+2 Plan — spending his first two years at Penn State Altoona and finishing at University Park — is working on developing fully customized shoes using 3D printing technology. The idea stemmed from an interest in footwear — not just the fashion — but the construction, materials and also the market.
According to Business Insider, sneakers are a $55 billion global industry, and the market is largely driven by consumers described as "sneakerheads," those who make a hobby of collecting and trading shoes. These are the customers that Unis one day would like to target through his company, UnisBrands LLC.
It's an audience he knows well. Unis got his idea for fully customized footwear from his own experience buying shoes, ripping them apart, repainting them, changing the materials and selling them. He also saw an opportunity to make the shoe-buying experience more personal and fun while working as a part-time sales associate in a shoe store at the mall.
"As people were coming in and not finding exactly what they wanted in size or look, I got the idea to fully customize a pair of shoes," Unis said. 
"I actually had a customer who would buy two pairs of shoes because his feet were two different sizes."
From idea to business plan
While at Penn State Altoona, Unis decided to take his idea and put together a business plan. He took part in the Pechter Business Plan competition, offered through the Sheetz Center for Entrepreneurial Excellence, and, despite what he would describe as a failed pitch, was able to take the constructive feedback of the judges and re-focus his plan.
"It just wasn't as developed as it needed to be, but the judges helped steer me to where I should be focusing," said Unis.
That year, Unis also scored some feedback from two judges on the popular television show "Shark Tank." The pair came to Altoona as part of the Speaker Series, and listened to Unis' pitch.
"At the time, I just had a hard plastic shoe and a rough wooden printer," he said. "They liked the idea and gave me some very good input."
Armed with constructive criticism and fresh determination, Unis researched how best to proceed. The first step was finding a 3D printer. Large-scale ones were completely out of his price range, and while looking into smaller-scale ones, he realized he could probably just make one of his own. With some online help, he gathered components and went to a manufacturer. Together, they came up with the patent-pending printer Unis uses today.
"I designed the printer to be optimized to print shoes," said Unis. "If you print this material with any normal 3D printer, it's going to jam."
Using CAD software, he designs the custom shoe and implements it into a program which slices the 3D design into thousands of layers that will be printed on his customized 3D printer. From there, the software creates a tool path to deposit material in each layer. The tool path for each layer is then exported to an SD card and put into the printer to fabricate the shoe.
"A 3D printer is essentially a hot glue gun on a router," Unis said. "The software specifies the route that it's going to take. The printer takes a spool of material — in this case, thermal plastic — and pushes this material through the motor. It heats up, melts the material, squeezes it out in the layer and moves in layers until complete."
"UnisBrands allows me to have the best of both worlds, bringing business, design, and fashion together."

— Nicholas Unis
In the fall of his sophomore year, Unis gave the Pechter competition another try. This time — with a product to show and a more developed plan — Unis was chosen as a finalist. He was granted incubator space at the Sheetz Center for Entrepreneurial Excellence to create detailed descriptions of his business concepts, potential market and likely competitors. In the spring, he presented again and won the competition, taking a $5,000 prize.
Now at University Park, Unis is tackling finance and accounting coursework while also working on UnisBrands. He has been accepted into the Happy Valley LaunchBox FastTrack Accelerator, a 15-week program that provides incubator space and gives startups access to training, mentorship, professional consultation and research resources. The program also provides access up to $3,000 in funding for customer discovery.
"Being a finance and accounting major, I do love the business aspect; however, you don't always get the freedom to be artistic," said Unis. "UnisBrands allows me to have the best of both worlds, bringing business, design and fashion together."
Unis also has started working with the Bernard M. Gordon Learning Factory, a Penn State facility that provides hands-on space for engineering students to use in conjunction with capstone design and other coursework. For the past 22 years, the Learning Factory has connected Penn State student teams to industry clients — from Boeing, GM and Lockheed Martin, to smaller startups and entrepreneurs, like Unis­ — in need of engineering design support to address business challenges.
"There's a litany of resources here. That's what is nice about the Invent Penn State initiative. We're all working collaboratively — across departments and units — to help these students advance their ideas toward reality."

— Tim Kerchinski, Pennsylvania Technical Assistance Program (PennTAP)
Knowing he would need help perfecting his prototype and putting quality control measures in place for print production, Unis reached out to Tim Kerchinski, who is the innovation team lead with the Pennsylvania Technical Assistance Program (PennTAP). Each semester, Kerchinski helps to find Learning Factory projects and sponsors. He also works with Invent Penn State through a federal Economic Development Administration grant to share best practices among the 21 innovations hubs at Penn State campuses across the Commonwealth, helping to strengthen the University's ability to provide local support for student entrepreneurs.
Hearing Unis' challenges, Kerchinski put Unis in touch with Timothy W. Simpson, Paul Morrow Professor of Engineering Design and Manufacturing, and former director of the Learning Factory. Simpson, who also serves as co-director on Penn State's state-of-the-art metal 3D printing facility, the Center for Innovative Manufacturing Processing through Direct Digital Deposition (CIMP-3D), agreed to provide funding for two teams to work with Unis from the Department of Industrial and Manufacturing's Innovation and E-Ship Fund, which Simpson administers. So for a semester, two teams of four to five engineers are working with UnisBrands as part of their capstone design project in the Learning Factory.
"One team is looking at the printing parameters and how we can print the shoes quickly without diminishing the quality," said Unis. "The other team is looking at various ways to treat the shoes after they've been printed, to smooth them out and give them a finished look."
For Kerchinski, the collaboration is just one example of the many opportunities and resources available to students through a growing entrepreneurial framework at Penn State.
"There's a litany of resources here," said Kerchinski. "That's what is nice about the Invent Penn State initiative. We're all working collaboratively — across departments and units — to help these students advance their ideas toward reality. When I introduce Nick, I make sure everyone knows he came from Penn State Altoona, because they did a great job with him. Ultimately, we just want these kids to be successful so that maybe one day they keep their companies in Pennsylvania and bring jobs to the state."
What's next
While a website is up and running, customers can only play around with colors and patterns for now; not place an order yet. Until the shoes are ready to be manufactured, Unis has begun thinking through his marketing strategy. And, because the shoes will be fully recyclable, he plans to implement a program allowing customers to send their shoes back once they're done wearing them for a discount on their next order.
Unis also continues to seize opportunities at Penn State. He was recently accepted as a finalist to compete in "The Investment," a "Shark Tank"-style competition put on by Inc.U, an initiative managed by PennTAP to support and grow local businesses. Student entrepreneurs present their business ideas to a panel of judges, and the winning pitches will receive prize money to help jump-start their businesses. The competition airs on WPSU in May.
"I think all of this would be extremely difficult without Penn State," he reflects. "I would have to go out and find a location for office space, pay rent, then find others to help with the project. Penn State has helped me connect with individuals who have offered their expertise to help me make a better product."