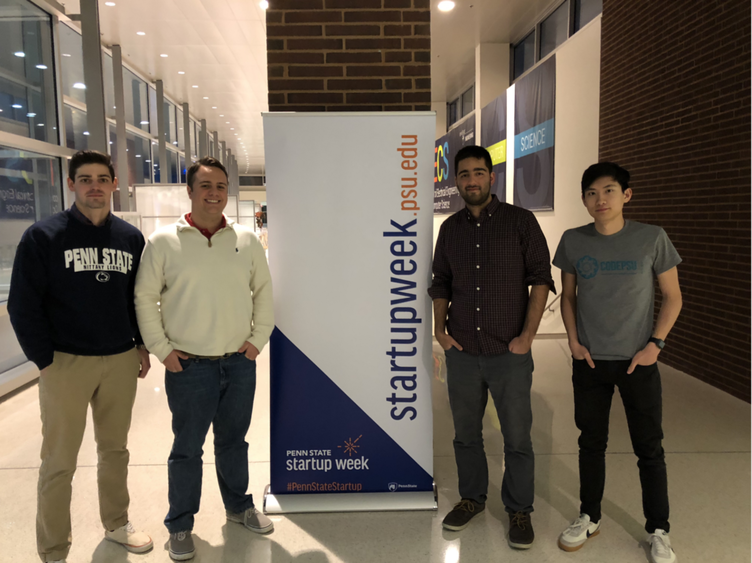 UNIVERSITY PARK, Pa. — Sherveen Karbasiafshar is a biology student at Penn State. He, along with five other undergraduates, created HemoGO — a smartphone application designed to assist people who want to check their complete blood count (CBC) on the go. HemoGO is one of six Penn State student startups working with the Pennsylvania Technical Assistance Program (PennTAP) to compete for a pool of $30,000 in the annual Inc.U competition show "The Investment" on WPSU.
Karbasiafschar said his goal is to win a portion of the prize to fund clinical trials that could potentially turn his app into an alternative to standard blood test procedures.
"My grandfather was diagnosed with lung cancer and I had to take him each week to have a CBC done. I noticed the results took a long time to come back. It was inconvenient," Karbasiafshar said. "A few years later, when I was shadowing physicians at Massachusetts General Hospital, I noticed many other patients having the same problems."
Karbasiafshar, along with James Frazier, majoring in computer engineering; Mathew Chen, majoring in biology; Catherine Karbasiafshar majoring in biochemistry and molecular biology; Steve Flanagan, majoring in biology; and Kate Levenberg, a medical student at Penn State, will pitch their app on "The Investment" airing at 8 p.m. on Thursday, May 24, on WPSU-TV.
"The Investment," modeled from ABC's "Shark Tank," gives student entrepreneurs a spotlight to pitch their ideas for a chance to claim a portion of the prize money. The annual production of the program, orchestrated by PennTAP and produced by WPSU, is possible because of grant funding awarded from the U.S. Economic Development Administration.
The following contestant startups were selected from 72 applications:
HemoGO, Penn State University Park.
UnisBrands, Penn State Altoona/University Park, is creating customizable 3-D printed footwear.
SponsrU, Penn State University Park, is creating a trackable and goal based achievement platform for crowdfunding for repaying student debt.
Hardwired, Penn State Abington, is a custom-designed PC build service.
Steer Logic, Penn State New Kensington, is an automated rodeo steer dummy designed to improve a team roper's skills utilizing robotics and engineering methods.
Trimatis, Penn State Berks, is creating a method to recycle plastic waste into 3-D printer filament.
The finalists will give presentations about their product or service, its benefits, the target consumer and any research they have done. The judging panel will then have an opportunity to question the team about potential investment concerns and decide how the pool of $30,000 will divide out amongst the startups.
Tim Kerchinski, innovation team lead for PennTAP, said "The Investment" provides opportunities for students to continue their journey toward funding their entrepreneurial pursuits.
"Some competitors come to us with no experience, just ideas; others come to us after launching a company. All of them are looking for mentors and funding resources," Kerchinski said. "This is where the Inc.U competition gives student entrepreneurs an opportunity to publicly showcase their startup and compete for significant funding and discover potential business partnerships that could move their product or service to the next level."
Inc.U is one of many opportunities available to Penn State students. Under the leadership of President Eric Barron, Penn State has developed rich and transformative educational environments across Pennsylvania with a strong focus on entrepreneurial success and economic development. In 2015, Dr. Barron launched Invent Penn State, a statewide initiative that has created 21 innovation hubs throughout the Commonwealth that provide student entrepreneurs with tools and resources to develop their businesses — with an ultimate goal of creating a positive impact on the economy.
Tune in to watch "The Investment" at 8 p.m. on Thursday, May 24, on WPSU-TV.